Screen Reclaiming (Cleaning) and Exposure
We offer exposure services for new screens, as well as a cleaning, re-coat and exposure service for used screens. Our facilities allow for screens up to 4 meters in size to be exposed, using the correct emulsions for specific applications. For further information and pricing contact us.
Screen Stretching Services
At Accuscreen, we offer a comprehensive and competitively priced screen re-meshing service. We use only the finest quality polyester screen mesh and adhesives. Our staff have many years experience, and use both manual and pneumatic equipment to ensure optimum results for all types of stretching requirements. We have the capacity to stretch the smallest screens of 15 centimetres up to 6 meters in length. We offer the fastest turn-a-round times possible and over 75 years of combined experience. This will give you the competitive advantage you need in today's marketplace. For more information or pricing, please contact us.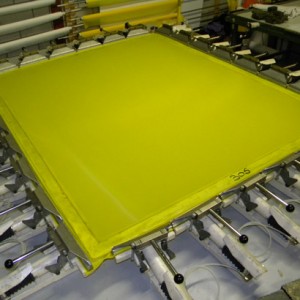 Aluminium Frame Manufacture
We work with industry specific manufactures to make new frames to order. We offer the best quality frames in the shortest turn-around time. Standard frame sizes are kept as stock items. For more information and pricing contact us. Frames are offered in multiple sizes and profiles including pre-bowing and hi-tension profiles to ensure minimum post-stretch bowing. Thereby maximizing print area.