Accuscreen offers a full array of squeegee options for any screen-print application.
We custom manufacture hand and machine squeegees in house to your specifications using only premium quality materials.
GENERAL INFO
In general softer grades (65sh) are used for increased ink deposits and high coverage printing. Harder grades (85sh) are used for reduced deposits, notably when printing UV inks for fine texts and higher line counts.Do not apply excessive pressure on squeegees as this makes your ink deposit heavy and uncontrollable and creates excessive wear. It is recommended that your squeegee slightly exceeds the printed image in size, and to leave significant free space between your screen edge and both squeegee ends. Gently insert the squeegee in a machine or hand holder. Use appropriate squeegee thickness to avoid forcing the blade in the holder. If the holder construction allows for it, regularly change the printing side of the squeegee to minimize the effect of bending with speed and pressure. Rotate your squeegee : do not wait until mechanical & chemical wear bents permanently back your blade to replace it by a fresh one and allowing it to relax, flat, for up to 24 hours.
CLEANING
Remove excess of ink with a cardboard or a soft cloth. Wash blade with an impregnated cloth or in an appropriate cleaning machine. Avoid the use of aggressive chemicals, in particular ink thinners. Let the squeegee rest and the chemicals evaporate before re-use or sharpening.
SHARPENING
Squeegee blades can be sharpened by all methods commonly used in the screen printing industry.
Sharpen dry squeegees only. Never allow a squeegee with solvents to be sharpened and don't wash a hot, freshly sharpened blade with chemicals. Do not try to grind excessive material in one pass. Precision printing requires a preventive sharpening to accommodate the squeegee edge to the holder shape.
STORING / SHELF LIFE
For all medium or long term storage, blades must be kept flat, unrolled, especially prior to use. Store in a dry cool place away from any direct source of light. If the squeegee is exposed to extreme temperature and humidity conditions, its hardness characteristics may be altered.
SQUEEGEE BLADE OPTIONS
Our most popular options for blade:
MONO LAYER
All purpose polyurethane blade with good combined resistance to chemicals and abrasion. It was developed to withstand various applications in screen printing. This is your ideal choice for non critical abrasive application or when using common screen inks.
Blades are manufactured with a centrifugation process to avoid bubbles and craters in the material and to bring optimal homogeneity to the compound, even at the core of the material and after grinding. Our exclusive computer controlled casting process guarantees batch to batch consistency. Each blade is inspected for edge quality and profile.
ADVANTAGES :
Good resistance to chemicals
High environment stability (temperature, humidity)
Sharpens easily
Individual batch & reference ink jet marking on blade
Color coded for easy identification
APPLICATIONS :
Graphics multi-purpose
Textile printing
Manual or automatic equipment use
STANDARD HARDNESSES :
soft 65shA red
medium 75shA clear / white
hard 85shA blue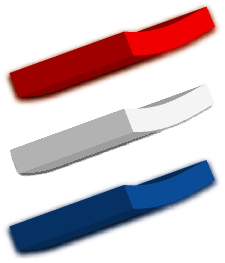 TRIPLE LAYER
ADVANTAGES / APPLICATIONS:
Recommended when high speed automatic printing equipment is used. A hard centre layer (90sh) for support, ideal for fine lines and halftone printing. Using Triple durometer squeegees will extend your squeegee life, help prevent dot gain, and generate immediate savings on ink and other consumable through better control of the squeegee pressure.
STANDARD COMBINATIONS :

Triple medium 75/90/75 shA Green/White/Green
Triple soft 65/90/65 shA Red/White/Red